by Rishi Goel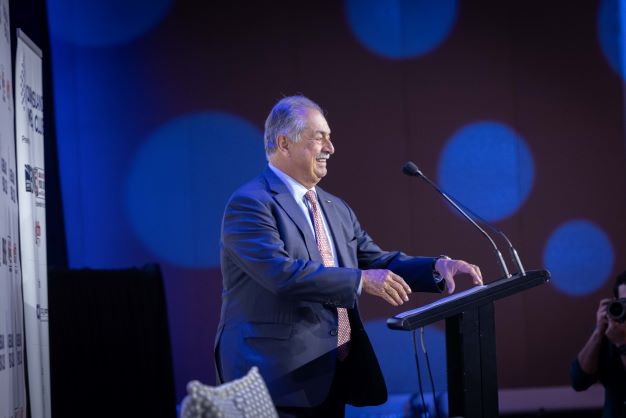 As the 2032 Olympics and Paralympic games approach, conversations about the branding, privatisation, sustainability, and financial feasibility are permeating the media. A recent Queensland Media Club address by keynote speaker Andrew N. Liveris AO, President of the Brisbane 2032 Olympic and Paralympic Games Organising Committee – was a chance for media and industry to hear the plans for what is to come. Fortunately, 16 Liveris Academy scholars were able to attend and hear Andrew's insights and an open format Q&A from prevalent media outlets. 
Liveris spoke of the unity that the Games should aim for, holding sport at the core but reflecting societal standards and the local culture. After meeting with other past Olympic and Paralympic game leaders, Andrew's vision for the games lies in merging the governmental spectacle from the 2012 London Olympics and the planned financial privatisation for the 2028 Los Angeles games. Liveris also spoke of the roadmap to decide on branding and head CEO, proposing his 3-3-3-1 year planning model beginning with engaging, establishing and educating then moving onto the planning, the implementing and finally executing. 
One of the biggest takeaways from the address was the emphasis on identity, specifically Brisbane's identity as a city. Liveris posed the question "who are we as people?" and focused on the importance of how to inform the longevity, legacy and planning for the games. 
Moving onto the questions, media members asked about Andrew's involvement as adviser to the Trump government and his board role with Saudi Aramco. In response Andrew shared his belief in the importance of creating positive change from the inside – or as he puts it, "from having a seat at the table." Other questions included the progress on selecting the Committee's CEO, the time periods open for branding partners and the sport he is most looking forward to watching in 2032. 
Overall, the address was a valuable opportunity for the Liveris Academy scholars to hear more about the Olympic and Paralympic games, including a systems approach to problem solving as well as networking with people who have significant stake in the management, monitoring and delivery of South-East-Queensland's media.