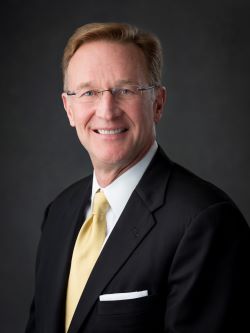 UQ Liveris Academy recently hosted a business breakfast event with Wendell Weeks, CEO of Corning Inc. The panel discussion uncovered Weeks' personal journey to his unconventional style of leadership, his take on investing in research and new innovations on the horizon.
Driven by his passion for novel creations that serve meaningful purpose in people's daily life, Weeks revealed his early life struggles of coming from a difficult upbringing and lacking role models which shaped his goal to surround himself with people harbouring great values. He added, "I joined Corning, because everybody was just a better person than me. And then I wanted to learn how to be like that."
Talking about his leadership trajectory Weeks said that losing billions of dollars as an optical communication business during the rise of internet and having to fire 25,000 people to restructure and rebuild the company was the hardest task he ever had to do. He says, "the biggest thing I ever learned about leadership is that it is not about the leader. It is about the followers. They are the ones who lift you up."
Weeks believes in consistent high investment in research and development and talking about how he tackles unforeseen failed research he shared "you can't really increase your hit rate no matter what anybody tells you… instead, count on the failure, but fail in an area that you can reuse and repurpose... what we do is like when I work on an area that fails, quite often, that knowledge that we built, will end up applying somewhere else. And it's usually the second or third thing we try with an idea that works. So as a result, that investment is never really lost... knowledge is never lost."
When asked about his opinion on Australia's slow progress in manufacturing space, Weeks responded "God blessed you with enormous resources. Now, that's a good thing, right? But the problem is, it's too easy for Australia, to make dough out of exploiting its natural resources, and its natural beauty as a tourism site. And as a result, the hard work of going up the value chain, and subsidising that in the face of what your neighbours in Asia are doing. To be able to go up that value chain is something that your country has not been willing to do because it's a democratic, and largely capitalist country."
Discussing the future of technology, Weeks mentioned 'a physical world with a digital overlay' without blocking peripheral vision as an upcoming advancement which would change the way the world works. He said, "if you can see your whole world around you; your peripheral vision is fine. But I have a digital light field that now puts a digital overlay on my real world. Not only an overlay, but it could look real if I wanted it to."
Weeks concluded the conversation with his powerful view on balance in life saying "evolution never selects balance ever. It selects how well you are attuned to the environment that is happening right now." He says "the thing to do is be awesome at something and you will find your way in this world."