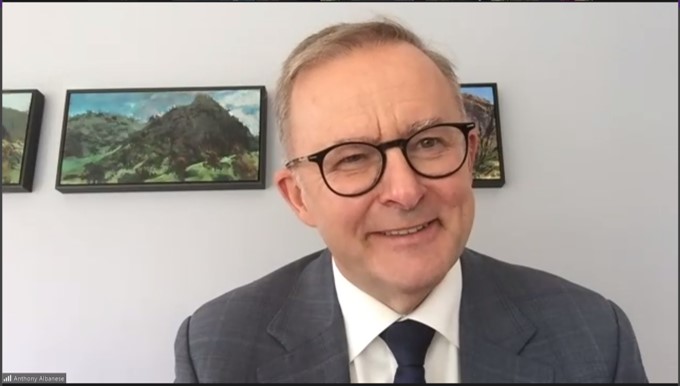 Leader of the Australian Labor Party, Mr Anthony Albanese, outlined the importance of unified leadership to Liveris Academy Scholars at UQ on Friday, 25 March.
Speaking from his Sydney office, the Leader of the Opposition addressed UQ students covering everything from his plans to power the nation, to leadership for a more equitable future.
When asked by law and humanities student Imogen Ryan-Kerr about how we might encourage more young women to be involved in change making, Mr Albanese said he was inspired by the young women who are emerging as future leaders.
"We need to create places that are safe, be conscious about structures and gender bias, and make sure that everyone can participate equally," he said.
"We need to do this not just to protect people now, but to send a message to younger women that it's ok for women to be powerful."
Medicine and biotechnology student Vishaak Gangasandra asked Mr Albanese about which aspects of his leadership have stayed consistent across his career.
"The thing that has remained constant is learning," he said.
"When I first went into parliament, I went on the Aboriginal and Torres Strait Islander Affairs committee and became an Assistant Shadow Minister in that portfolio. And I did that to learn."
"I grew up in inner Sydney and knew urban, young Indigenous people, but I hadn't had contact with remote communities."
He also impressed upon the scholars that leadership doesn't mean you do it all yourself.
"Leadership is sometimes doing things yourself, but also having the confidence to build structures where people who know more than you do can lead."
Mr Albanese was invited to speak to the Scholars via friend and businessman, Mr Andrew Liveris.
"You can tell from the questions and the forward thinking of these amazing young people how proud we are of these young Australians as they seek to define their path forward," Mr Liveris said.
This discussion was an exclusive opportunity for Liveris Academy Scholars.