Meet the speakers at the Liveris Academy for Innovation and Leadership 2020 Winter School Distinguished Speaker Series.
Mr Andrew N. Liveris AO
Founding Donor of the Andrew N. Liveris Academy for Innovation and Leadership, and former Chairman and CEO of The Dow Chemical Company
About the speaker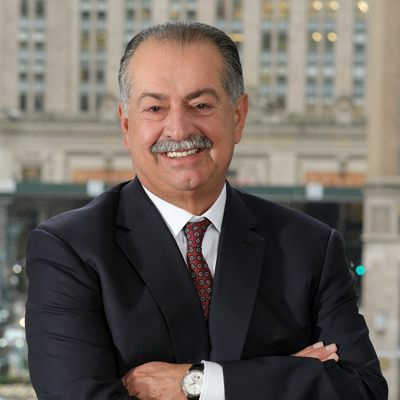 Andrew is the former Chairman and Chief Executive Officer of The Dow Chemical Company and the former Executive Chairman of DowDuPont. With over forty years of global leadership experience at The Dow Chemical Company, his career included roles in manufacturing, engineering, sales, marketing, and business and general management around the world.
Andrew is currently a director at IBM, Saudi Aramco, Worley, Lucid Motors (Chairman) and NOVONIX. He is on the advisory board of Sumitomo Mitsui Banking Corporation, Teneo (a global CEO consulting and advisory firm), and NEOM (an initiative driven by Saudi Vision 2030). He is Chairman of the Blackrock Long Term Capital and a special advisor to the Public Investment Fund (PIF) and the Crown Prince of Saudi Arabia.
Andrew serves as a trustee for the King Abdullah University of Science and Technology (KAUST), The Minderoo Foundation, and the United States Council for International Business, and was recently appointed Chairman of the Australian Governments National COVID Commissions Manufacturing Taskforce.
Previously, he was the Vice Chair of the Business Roundtable, an Executive Committee Member and Chairman of the United States Business Council, and a member of the Concordia Leadership Council and the Australian government's Industry Growth Centres Advisory Committee.
In 2012 Andrew co-founded The Hellenic Initiative (THI) to support economic renewal in Greece through entrepreneurship, business development, and investment, and serves as Chairman of the Board. Andrew is a Chartered Engineer and a Fellow of The Institute of Chemical Engineers as well as a Fellow of the Australian Academy of Technological Sciences and Engineering.
He earned a bachelor's degree (first-class honors) in chemical engineering from the University of Queensland and was awarded the University Medal for that year. In 2005 he was awarded an honorary doctorate in science by his alma mater as well as being named Alumnus of the Year.
Andrew was appointed Officer of the Order of Australia for his services to international business in 2014.
He was awarded an honorary doctorate in engineering from Michigan State University in 2015. He has also been awarded an Honorary Doctorate of Commercial Science from the University of Central Michigan and an Honorary Doctorate of Laws from Northwood University.
Top of page
Mr Ajay Banga
CEO of Mastercard
About the speaker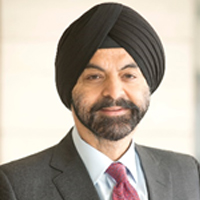 Ajay Banga is chief executive officer of Mastercard and a member of its board of directors. He will become executive chairman of the board of directors on January 1, 2021.
Ajay is a co-founder of The Cyber Readiness Institute, chairman of the International Chamber of Commerce and a trustee of the United States Council for International Business. Ajay is a founding trustee of the U.S.-India Strategic Partnership Forum, a member of the U.S.-India CEO Forum and is chairman emeritus of the American India Foundation. He served as a member of President Obama's Commission on Enhancing National Cybersecurity. He is a past member of the U.S. President's Advisory Committee for Trade Policy and Negotiations.
He was awarded the Padma Shri Award by the President of India in 2016, the Ellis Island Medal of Honor in 2019 and the Business Council for International Understanding's Global Leadership Award. He is a fellow of the Foreign Policy Association and was awarded the Foreign Policy Association Medal in 2012.
Ajay is a member of the board of overseers of the Weill Cornell Medical College. In addition, Ajay serves as a director of Dow Inc. and is a member of its compensation and governance committees.
Prior to Mastercard, Ajay served as chief executive officer of Citigroup Asia Pacific. During his career at Citigroup, he held a variety of senior management roles in the United States, Asia Pacific, Europe, Middle East and Africa. He also oversaw the company's efforts in microfinance.
Ajay began his career at Nestlé, India, where for 13 years he worked on assignments spanning sales, marketing and general management. He also spent two years with PepsiCo, where he was instrumental in launching its fast food franchises in India as the economy liberalized.
He is a graduate of Delhi University and the Indian Institute of Management, Ahmedabad.
Top of page
Mr Paul Polman
Co-Founder and Chair of IMAGINE, and former CEO of Unilever
About the speaker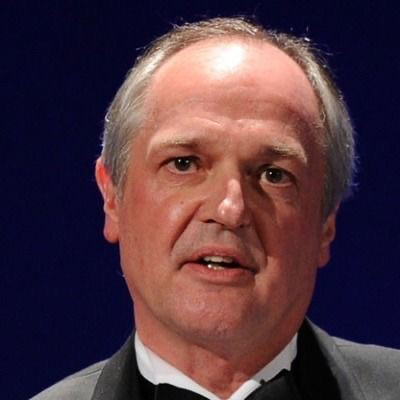 Paul is Co-founder and Chair of IMAGINE, a benefit corporation and foundation accelerating business leadership to achieve the Global Goals.

He is also Chair of the International Chamber of Commerce, The B Team, Saïd Business School and The Valuable 500, and Vice-Chair of the U.N. Global Compact.

He was CEO of Unilever for a decade where he demonstrated that a long-term, multi-stakeholder model goes hand-in-hand with good financial performance. During his tenure, Unilever was one of the best-performing companies in its sector, delivering ten years of consistent top and bottom line growth.

Paul was appointed to the U.N. Secretary General's High-level Panel that developed the Sustainable Development Goals and has played a leading role since in highlighting the business case for the 2030 development agenda, including as a founder member of the Business & Sustainable Development Commission. He remains a U.N.-appointed SDG Advocate.

Paul engages across industry sectors and global organisations to maximise impact, including as a member of FCLTGlobal, the Global Commission on the Economy and Climate and the Food and Land Use Coalition, which he chairs.

He has received numerous awards, including the Rainforest Alliance Lifetime Achievement Award, the U.N. Environment Programme's Champion of the Earth Award and the Oslo Business for Peace Award.

He has been honoured with France's Chevalier de la Légion d'Honneur, and was named an Honorary Knight Commander of the Order of the British Empire for services to business. He is a recipient of the Public Service Star from the Government of Singapore and received the Treaty of Nijmegen medal.

He founded the Kilimanjaro Blind Trust with Kim Polman, working to improve the lives of blind and visually impaired children in East Africa. He also supports and mentors' young leaders as a Counsellor and Chair of the Global Advisory Board of One Young World.
Top of page
Mr Vik Malhotra
Chairman of the Americas and Senior Partner, McKinsey
About the speaker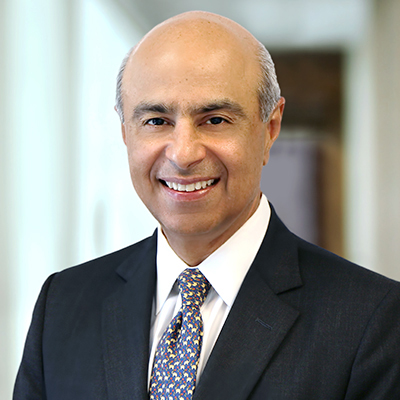 Vik Malhotra is McKinsey's Chairman of the Americas. He holds key internal leadership roles.
In the past, Vik has led McKinsey's Northeast Office (New York, Boston, & Stamford) the East Coast Financial Institutions Practice, North American Life Insurance Practice, the North American Personal Financial Services Practice, and co-led the Emerging Markets Financial Institutions Practice.
Vik joined the firm in 1986 and has spent his career in the New York Office. During his time at McKinsey, Vik has served major financial institutions focused on wholesale banking, asset management, private banking, and retail banking. His consulting experience has covered a broad range of assignments on corporate strategy, business unit strategy, growth strategies, performance transformation, organizational design, operational improvement, and business process offshoring.
Vik is also active with major non-profits outside McKinsey. He currently serves as the Vice Chairman of the Board at the Wharton Graduate School (University of Pennsylvania). He is also a Trustee of The New York City Partnership as well as The Conference Board, and a Trustee Emeriti of the Asia Society.
Top of page
Mrs Ginni Rometty
Executive Chairman, and former Chairman, President and CEO of IBM
About the speaker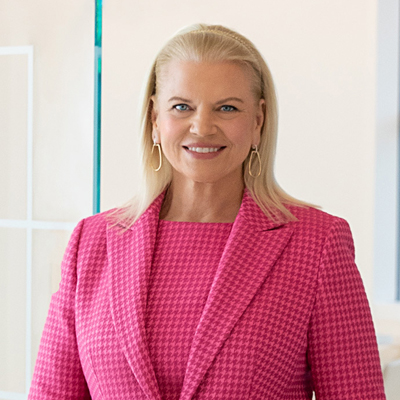 Virginia M. (Ginni) Rometty is Executive Chairman of IBM. She was previously Chairman, President and Chief Executive Officer.
Ginni became Chairman, President and Chief Executive Officer of IBM in 2012. During her tenure she made bold changes to reposition IBM for the future, investing in high‑value segments of the IT market and optimizing the company's portfolio. Under Ginni's leadership, IBM built out key capabilities in hybrid cloud, security, quantum computing, industry expertise, and data and AI, both organically and through acquisition. IBM acquired 64 companies during Ginni's tenure as CEO, including Red Hat, the largest acquisition in the company's history. She reinvented more than 50 percent of IBM's portfolio, built a US$21 billion hybrid cloud business, and established IBM's leadership in AI, quantum computing and blockchain, while divesting nearly US$10 billion in annual revenue to focus the portfolio on IBM's high‑value, integrated offerings.
Ginni also established IBM as the model of responsible stewardship in the digital age. She was the industry's leading voice on technology ethics and data stewardship, working relentlessly to safely usher new technologies into society. She enabled people of diverse backgrounds and education levels to participate in the digital economy by building talent, skills and opportunity for disadvantaged populations. Under her leadership, IBM created thousands of "New Collar" jobs and championed the reinvention of education around the world, including the explosive growth of the six‑year Pathways in Technology Early College High Schools, or P‑TECHs, which are helping prepare the workforce of the future, serving hundreds of thousands of students in more than 200 schools and 24 countries. She also helped to redefine the purpose of the corporation through her work with the Business Roundtable, expanding corporate commitments to include a wide range of stakeholders, from customers to communities.
IBM also achieved record results in diversity and inclusion under Ginni's leadership. This included extending parental leave and making it easier for women to return to the workforce through a "returnships" program with hands‑on work experience in emerging technologies. This pioneering work was recognized in 2018 by the prestigious Catalyst Award for advancing diversity and women's initiatives. IBM is the only tech company to have earned this recognition in the past 20 years and the only company ever to be honored four times.
Beginning her career with IBM in 1981, Ginni held a series of leadership positions across the company and led the successful integration of PricewaterhouseCoopers Consulting, creating a global team of more than 100,000 business consultants and services experts.
Ginni has a Bachelor of Science degree with high honors in computer science and electrical engineering from Northwestern University, where she later was awarded an honorary degree. She also has honorary degrees from Rensselaer Polytechnic Institute and North Carolina State University.
She serves on the Council on Foreign Relations, the board of trustees of Northwestern University, where she is Vice Chair, the boards of overseers and managers of Memorial Sloan-Kettering Cancer Center, and the board of directors of JPMorgan Chase & Co. She is co‑chair of the Aspen Institute's Cyber Group, a member of the advisory board of Tsinghua University School of Economics and Management, and a member of the Singapore Economic Development Board International Advisory Council.
Top of page