"Look for people who have lots of great questions. Smart people are the ones who ask the most thoughtful questions, as opposed to thinking they have all the answers. Great questions are a much better indicator of future success than great answers."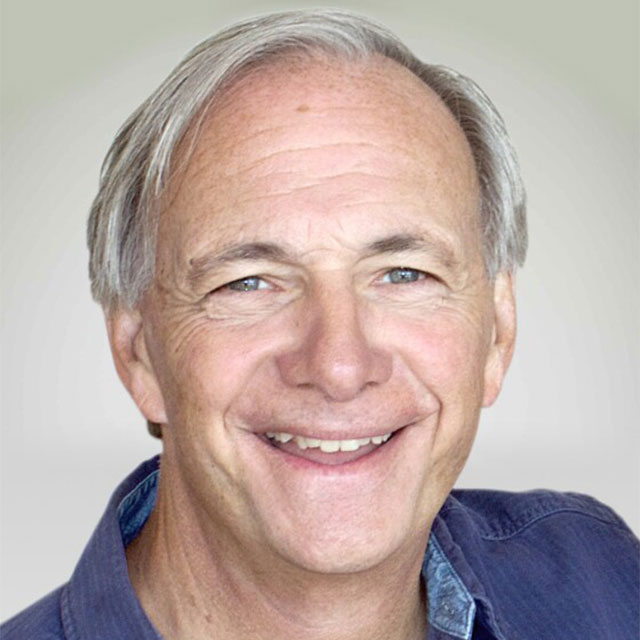 Co-Chairman and Co-Chief Investment Officer
Ray Dalio is the Founder and Co-Chief Investment Officer of Bridgewater Associates and a Director on its Operating Board of Directors. Ray has been a global macroeconomic investor for more than 50 years. He started Bridgewater out of his two-bedroom apartment in New York City in 1975 and under his leadership, the firm has grown into the fifth most important private company in the US according to Fortune Magazine.
 
Ray graduated with a BS in Finance from C.W. Post College in 1971 and earned an MBA degree from Harvard Business School in 1973. His investment innovations (e.g., risk parity, alpha overlay, and All Weather) changed the way global institutions approach investing, and he has received several lifetime achievement awards. He is also the author of the New York Times bestselling books Principles: Life and Work,  Principles for Dealing with the Changing World Order, as well as Principles for Navigating Big Debt Crises.
 
Ray is a valued macroeconomic advisor to many policy makers around the world. Because of the impact his thinking has had on macroeconomic policies around the world, he was named by TIME magazine as one of the "100 Most Influential People in the World." He has been married to his wife Barbara for more than 40 years and has three grown sons and five grandchildren. He is also an active philanthropist with special interests in ocean exploration, micro-finance, health justice, and providing equal educational opportunities.