Distinguished Speaker Series: Mr Vik Malhotra
15 July 2020

8:00am

–

9:00am
About the speaker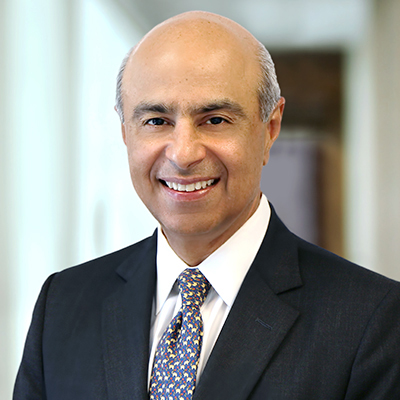 Mr Vik Malhotra
Chairman of the Americas and Senior Partner, McKinsey
Vik Malhotra is McKinsey's Chairman of the Americas. He holds key internal leadership roles.
In the past, Vik has led McKinsey's Northeast Office (New York, Boston, & Stamford) the East Coast Financial Institutions Practice, North American Life Insurance Practice, the North American Personal Financial Services Practice, and co-led the Emerging Markets Financial Institutions Practice.
Vik joined the firm in 1986 and has spent his career in the New York Office. During his time at McKinsey, Vik has served major financial institutions focused on wholesale banking, asset management, private banking, and retail banking. His consulting experience has covered a broad range of assignments on corporate strategy, business unit strategy, growth strategies, performance transformation, organizational design, operational improvement, and business process offshoring.
Vik is also active with major non-profits outside McKinsey. He currently serves as the Vice Chairman of the Board at the Wharton Graduate School (University of Pennsylvania). He is also a Trustee of The New York City Partnership as well as The Conference Board, and a Trustee Emeriti of the Asia Society.
About Liveris Academy for Innovation and Leadership 2020 Winter School Distinguished Speaker Series
Hear from the leaders of Unilever, IBM, McKinsey, Dow and others during this exclusive, thought-provoking webinar series.
The onset of COVID-19 has brought increased focus to the need for leadership, innovation and decision-making under uncertainty.
The inaugural Andrew N. Liveris Academy for Innovation and Leadership Winter School in July 2020 will welcome a number of distinguished international business leaders.
Introduced by the Academy's Founding Donor Andrew N. Liveris AO, UQ's talented Liveris Scholars will interview our esteemed speakers who will share their insights into these topics, including how their organisations have responded to the COVID-19 crisis, as well as what they consider to be the opportunities and priorities for global leadership in the 21st Century.
This event is only available to UQ staff and students. A Zoom link will be sent to registrants prior to the event.
Registrations close 4pm Monday 13 July 2020.