"There are three qualities all good leaders share: Urgency, Curiosity and Competitiveness. But when a person brings their basic human decency to each one of these qualities, you get the difference between a good leader and a great one capable of actually changing things for the better."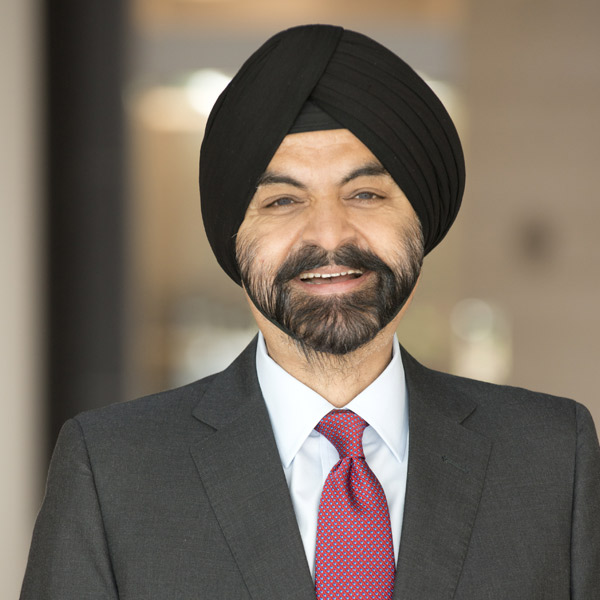 Ajay Banga began his five-year term as World Bank Group President on June 2, 2023.
Ajay Banga most recently served as Vice Chairman at General Atlantic. Previously, he was President and CEO of Mastercard, a global organization with nearly 24,000 employees.  Under his leadership, MasterCard launched the Center for Inclusive Growth, which advances equitable and sustainable economic growth and financial inclusion around the world. He was Honorary Chairman of the International Chamber of Commerce, serving as Chairman from 2020-2022. He became an advisor to General Atlantic's climate-focused fund, BeyondNetZero, at its inception in 2021. Banga served as Co-Chair of the Partnership for Central America, a coalition of private organizations that works to advance economic opportunity across underserved populations in El Salvador, Guatemala, and Honduras. He was previously on the Boards of the American Red Cross, Kraft Foods, and Dow Inc.
Ajay Banga is a co-founder of The Cyber Readiness Institute and was Vice Chair of the Economic Club of New York. He was awarded the Foreign Policy Association Medal in 2012, the Padma Shri Award by the President of India in 2016, the Ellis Island Medal of Honor and the Business Council for International Understanding's Global Leadership Award in 2019, and the Distinguished Friends of Singapore Public Service Star in 2021.
Ajay began his career at Nestlé, India, where for 13 years he worked on assignments spanning sales, marketing and general management. He also spent two years with PepsiCo, where he was instrumental in launching its fast food franchises in India as the economy liberalized.
He is a graduate of Delhi University and the Indian Institute of Management, Ahmedabad.